Welcome to Exhaust School!
If you're new to customising motorcycles or just want to learn more about what goes into an awesome exhaust, then exhaust school is the place for you. We'll give you an insight into the four main exhaust categories, and also take a look at a few components you'll find on some of the products in our exhaust range.

In just a few minutes you'll go from exhaust noob to exhaust guru!
Our exhaust range is split into four major categories; 2-into-1 Systems, 2-into-2 Systems, Slip-On Mufflers, and Header Pipes. Discover the differences and decide which one is perfect for your bike.
2-into-1 exhaust systems are the primary choice for riders and bike builders who want to increase the performance of their machines. Most produce significant horsepower gains and added torque.
These exhausts are also popular for riders who prefer a sporty, aggressive look. Some 2-into-1 exhausts have the added benefit of being mounted higher on the bike, allowing more lean room for riders who like to corner hard.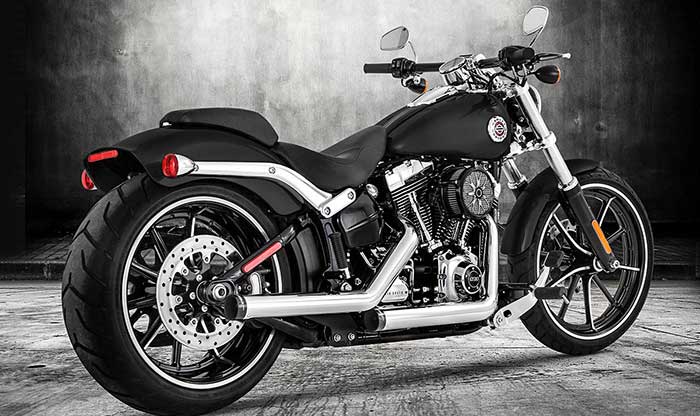 2-into-2 exhausts are regularly revered for their classic, timeless style and rich sound. These days there is a seemingly infinite number of 2-into-2 varieties available, from purely performance-driven systems, to the most eye-catching designs for top show bikes – and everything in-between.
While each exhaust system will produce different results, many 2-into-2 exhausts produce more mid-range power, making them ideal for riders looking for a more responsive ride over top-end speed.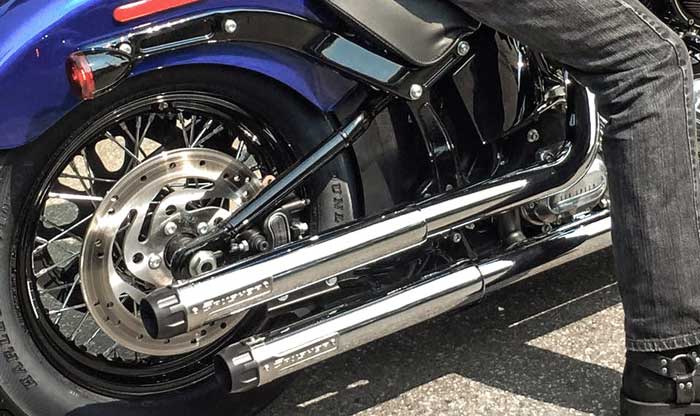 Slip-on Mufflers give you the ability to upgrade the look, sound and performance of your bike, with the convenience of simple installation.
Because the stock header pipes are left in place, Slip-on Mufflers are easier to fit and can be more affordable than a whole system.
In the past, Slip-on Mufflers were often only used to change the sound and appearance of a bike. Today many of our manufacturers produce mufflers that also provide significant power gains.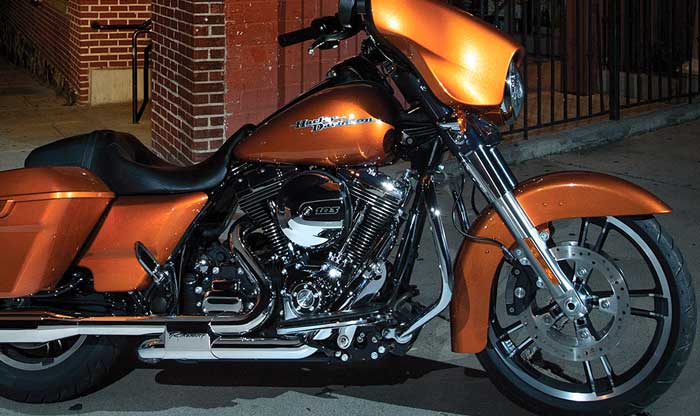 Header Pipes are available separately for Harley-Davidson® Touring models and some Indian and Metric bikes.
Buying headers and mufflers separately gives bike builders a huge range of options for customisation. Whether you're working on the ultimate cruiser or a bombed out bagger, you'll be able to find a combination that perfectly suits your individual style.
Alright, now you know all about the four major exhaust categories. Want to know more? Awesome – here's a bit more info to ensure you get the most out of your new exhaust!
Stepped Headers
Stepped Headers are commonly used by exhaust manufacturers to get more power from an exhaust.
So what are Stepped Headers? As the name suggests, a stepped header pipe starts at one diameter, and then steps up to a larger diameter, (and then another and so on). The number of steps can vary, but the result is always more power.
How does it work? As the exhaust gasses move through the pipe, they expand and need to be elimanted as quickly as possible to make way for the next wave of gasses. The stepped headers give the gasses space to expand, and create a vacuum-like effect, virtually sucking the emissions through the pipe. This improves airflow and allows the engine to run more efficiently, and produce more power.
Tuning
Style Points
Well done, you've graduated exhaust school! That wasn't too hard was it? What's next? Why not check out 
our exhaust range
, and use your newfound knowledge to find the perfect exhaust for your bike!